Bio-Med Devices' new industry leading TV-100 Ventilator offers the latest technology, and provides the modes and performance of a full size ICU ventilator in a compact design that is ideal for transport.
Full FiO2 Capability
The TV-100 features an internal compressor which provides air supply without the need for external pressurized gas supplies. Oxygen may also be provided from a 50 psi gas source and is delivered via an internal blender in O2 concentrations from 21 – 100%.
Dependable & Easy to Use
The TV-100 features dual, hot swap capable, rechargeable batteries that allow for uninterrupted use on the go. The TV-100 is capable of 7 to 11 hours of continuous battery operation with fully charged batteries.
The TV-100 offers the user a simple set-up assistant to get up and running fast, when seconds count. The user can also take full advantage of advanced features like waveform graphs and loop graphs to provide complete patient care.
Unmatched Capability
The TV-100 offers the capability to ventilate the smallest of premature infants to the largest of adult patients. This wide range of use, as well as the inclusion of non-invasive modes, sets the TV-100 apart.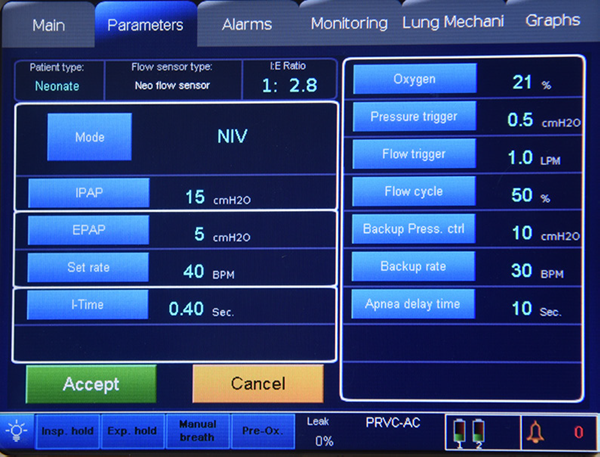 NIV Mode
A diverse mode that can be used for many non-invasive applicationS
Differing inspiratory and expiratory pressures (IPAP and EPAP)
CPAP
With or without a set rate
With or without apnea backup
Can be used with a vast array of neonatal nasal CPAP interfaces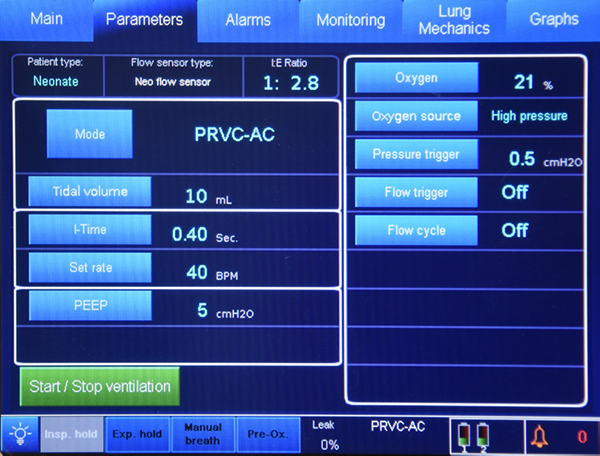 PRVC Mode
Pressure Regulated Volume Control
Inspiratory pressure adjusts up or down to maintain a set target tidal volume
Volume guarantee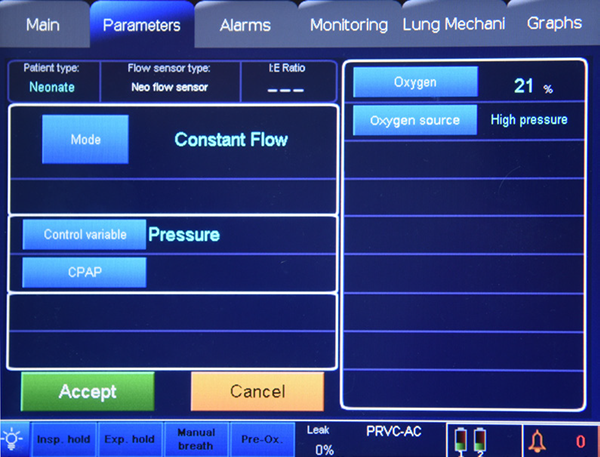 Constant Flow
Use this mode to provide flow to a resuscitation bag prior to intubation
Provide flow to a high flow cannula
Provide flow to a low flow neonatal cannula
TV-100 Meets Transport Requirements
Tested to and complies with the new standards for Emergency Medical Services 60601-1-12.
Testing includes water ingress (rated to IP44), extreme vibration, 30G forces, EMI/RFI,
and drop test from a height of 75 cm to concrete onto all six sides of the ventilator.
The TV-100 has been tested and passed important clauses of the DO-160G aviation standard.
Your choice for transport ventilation, the TV-100 uses the latest in smart battery technology with built-in charge intelligence and safety features including protection from over-charge, deep discharge, and short circuit overload making it the front-runner for safety in air transport.
Automatic barometric compensation for altitude or cabin pressure changes up to 12,000 feet.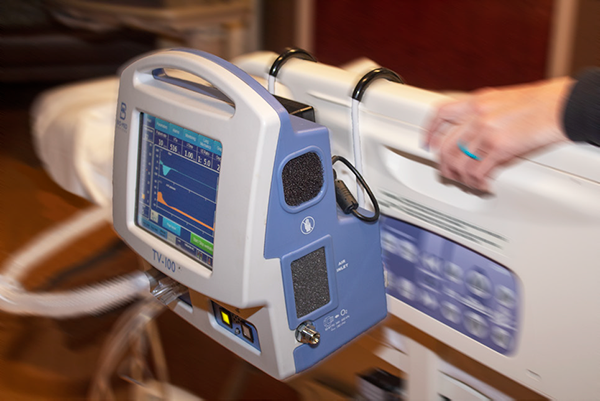 TV-100 Bed Rail Bracket
(BMD Part Number 2013BR)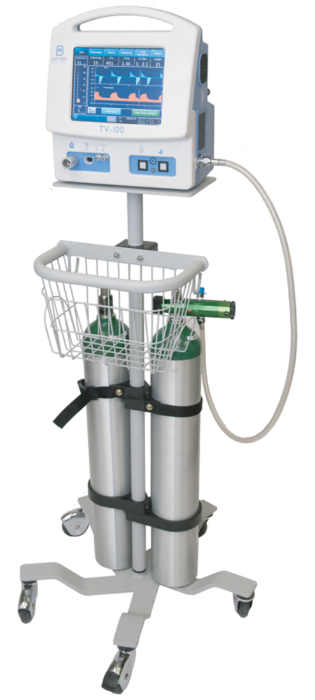 Ventilator Roll Stand (BMD Part Number 1060T)
with 2 E-Cylinder Tank Brackets (BMD Part Number 1061T)
Ventilation Modes
Volume Assist ControL
Volume-SIMV
PRVC
Pressure-Assist Control
Pressure-SIMV
NIV
Constant Flow
CPAP-Volume
Apnea Backup
Monitors/Alarms
Rate
Oxygen % (FiO2)
PEEP
EPAP
IPAP
Apnea
VTe
MVe
Peak Pressure
Mean Pressure
Low Battery
I:E Ratio
Included Accessories
TV-100 Operator's Manual
Disposable Adult Circuit
Disposable Infant Circuit
Adult Test Lung
Infant Test Lung
Pediatric/Adult Flow Sensor
Infant Flow Sensor
Disposable Patient Filter
O2 High Pressure Supply Hose
TV-100 Power Supply
(with Power Cord)
Optional Accessories
Disposable Pediatric Circuit
Disposable Dual Limb Adult Circuit
Reusable Infant Circuit
Reusable Pediatric Circuit
Reusable Adult Circuit
O2 Filter/Water Trap
Pediatric Test Lung
TV-100 Battery
TV-100 Battery Charger
Roll Stand
Bed Rail Bracket
DC 12-30 Volts Cable
Carry Bag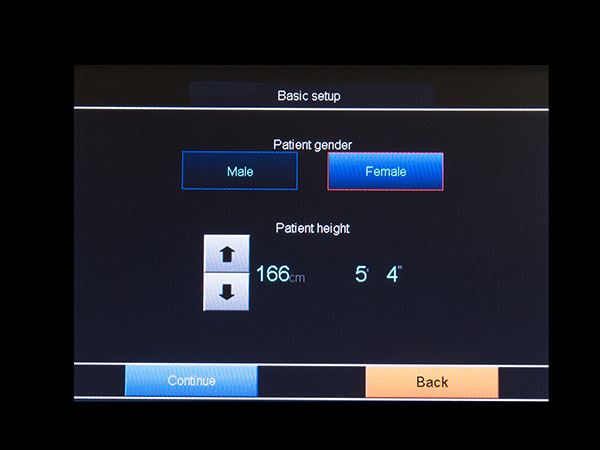 Set-Up Assistant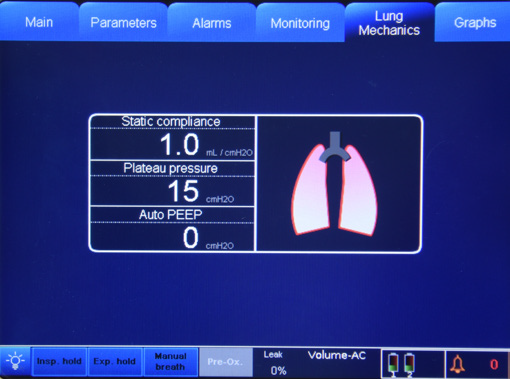 Lung Mechanics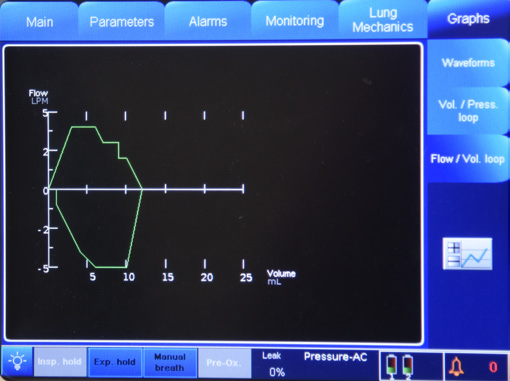 Loop Graph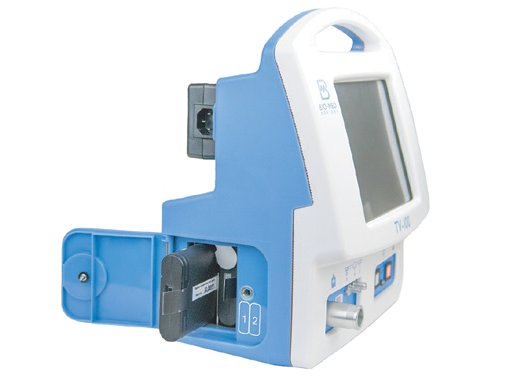 Battery Compartment
Physical Characteristics
Size: 12.8" x 11.9" x 7.6" (32.5 cm x 30.2 cm x 19.3 cm)
Weight: 15.6 lbs. (7.1 kg) (Without AC Adapter)
Specifications
Apnea Alarm……………………….. 10 – 60 seconds
I:E Ratio………………………………. 3:1 to 1:99
Oxygen……………………………….. 21 – 100%
Pressure Support…………………. 1 – 60 cmH2O
Rate (Pediatric/Adult)…………… 5 – 100 bpm
Rate (Neonatal)……………………. 5 – 150 bpm
SIMV Rate…………………………… 1 – 50 bpm
Expiratory Time……………………. 0 – 100 seconds
Inspiratory Time…………………… 0.1 – 3.0 seconds
Flow Trigger…………………………. 0.5 – 30 lpm
Pressure Trigger relative to baseline -0.2 to -10 cmH2O
Purge Flow…………………………… 40 – 60 ml/min
Base Flow (Pediatric/Adult)……. 6 lpm
Base Flow (Neonatal)…………….. 2.5 lpm
Flow ……………. 0 – 180 lpm
PEEP/CPAP (Pediatric/Adult)…… 0 – 35 cmH2O
PEEP (Neonatal)……………………. 0 – 25 cmH2O
EPAP……………………………………. 2 – 20 cmH2O
IPAP…………………………………….. 3 – 40 cmH2O
PIP (Pediatric/Adult)……………… 0 – 99 cmH2O
PIP (Neonatal)………………………. 0 – 60 cmH2O
Tidal Volume (Pediatric/Adult)… 75 – 2500 ml
Tidal Volume (Neonatal)………… 2 – 100 ml
Pop-off Relief Valve (Ped/Adult) 100 cmH2O
Pop-off Relief Valve (Neonatal)… 60 cmH2O