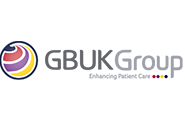 GBUK Group award-winning specialist companies are experts in the provision of enteral feeding, critical care, and patient moving and handling products and technologies. Within the Group, GBUK Enteral is the UK's leading supplier of enteral feeding tubes, syringes, and gastrostomy devices. GBUK Healthcare offers medical, surgical, and critical care devices, and GBUK Banana provides a comprehensive range of innovative safety-centered patient moving and handling systems.
GBUK Enteral specialises in the supply of enteral feeding tubes, syringes, gastrostomy devices and enteral ancillaries.
Our comprehensive range of products enables healthcare professionals to safely deliver nutrition to their patients being cared for both in hospital and their own homes. GBUK Enteral is proud to be playing a central role in the ISO ENFit programme, introducing the new International Patient Safety Standard Connector. We take pride in our commitment to quality, clinical innovation and providing exceptional value.