AUTOMATE WITHOUT THE LEARNING CURVE. Designed for Anesthesiologists, by Anesthesiologists with workflows Pharmacy will love. The Anesthesia Station is the newest member of IntelliGuard's Enterprise System and packed with our most advanced RFID technology. It's the biggest change to medication management. Ever.
IT'S TIME TO WORK SMARTER. SCHEDULE A DEMO.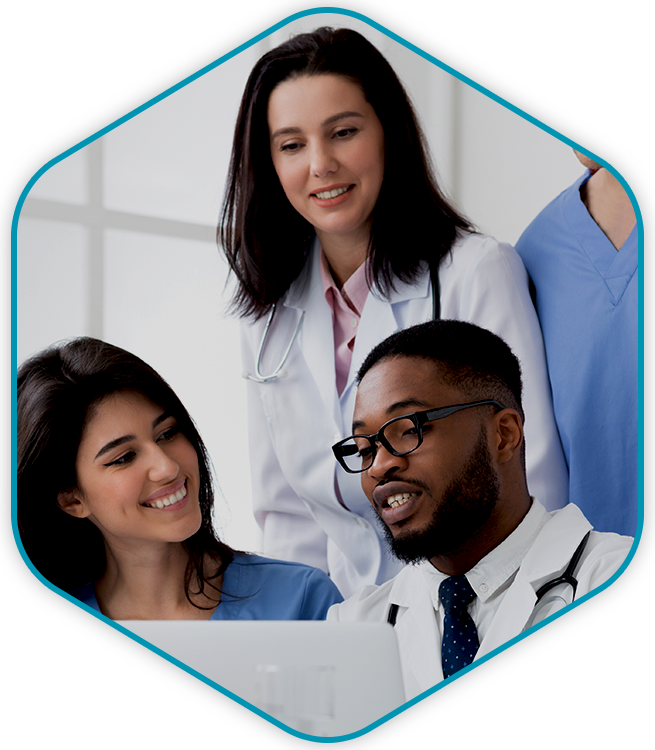 Advanced rfid tracking instantly increases visibility of medications for the pharmacy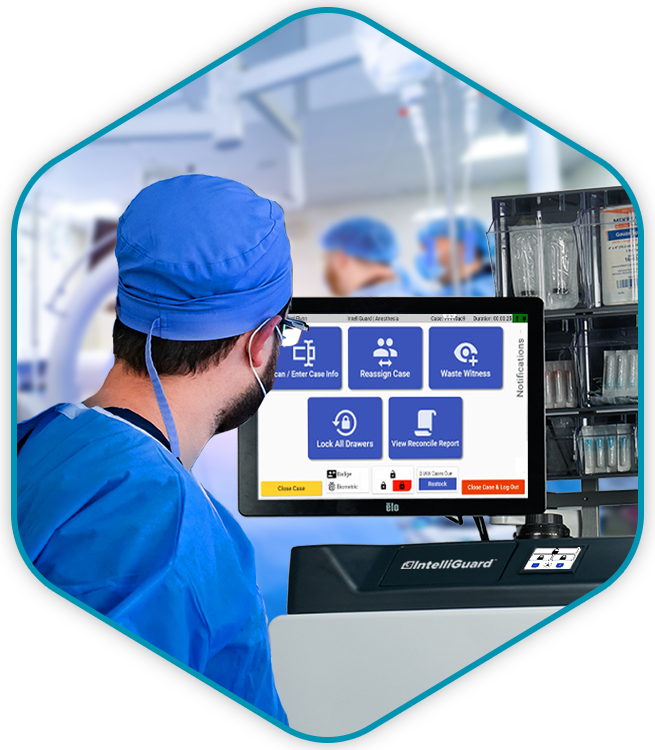 Intuitive workflow Saves time and improves Operating room efficiency For anesthesia providers
Pharmacy Benefits Barcode is good. 99.99% Automated medication Tracking is better.
IntelliGuard RFID technology ensures real-time visibility of all medications in the OR and in other environments. Track medication usage, dispense, return events, and PAR levels automatically, helping you eliminate human error and lost charges.
Pharmacy benefits
---
Seamless Pharmacy Workflow
Effortless Tracking of Controlled Substances
True Bi-Directional EHR Integration for all Dispense/Return and Waste/Witness events
Reduce Costs with Optimized Tray
Inventory Par Levels
Insightful Data and Efficient Reporting
Anesthesia Benefits Get the medication you need for your cases, we'll handle the details.
Always have what you need right at your fingertips. Simply log in to access the medication you need for your cases. IntelliGuard's RFID automation tracks everything as you go. No more barcode scanning or manual documentation means you can spend more time taking care of your patients.
Anesthesia benefits
---
EHR Integration helps you view and manage your daily caseload
Advance notifications to Pharmacy ensure you always have the medication
you need
No keyboard or mouse scanning
Eliminates medication countbacks and barcode scanning
Intuitive workflow ensures more time for patient care
HOW DO YOU IMPROVE AMAZING? Our next generation anesthesia station offers new features. You've never seen medication management like this.
The IntelliGuard Anesthesia Station is the first and only RFID-automated medication management cart that provides mutually beneficial results to both Pharmacy and Anesthesia departments with end-to-end visibility of usable and end-of-lifecycle medications.
RFID has become a key component in the success of managing kits and trays as well as anesthesia stations. Customer input has shaped the latest features in the IntelliGuard Anesthesia Station which now offers the following:
47% MORE STORAGE SPACE

---
You asked, we listened. New drawer design with expanded space for everything you need in one location. Open matrix medication drawer allows customization of tray pockets to accommodate the smallest ampule to pre-filled syringes or large IV bags.
STATE OF THE ART BIO ID READER

---
Touch and Go technology used for enrollment, authentication, and identification to ensure proper individual and drawer access security.
FRONT-LOCATED EMERGENCY OVERRIDE ACCESS

---
In the unlikely event of an emergency, enables providers with access to medications. An additional lock for controlled substance drawers provides added security.
LIVING LARGE BIGGER TOUCHSCREEN DISPLAY

---
New larger, high resolution fluid resistant touchscreen monitor making user interface even easier to navigate.
MORE IS BETTER SMALL TOUCHSCREEN DISPLAY

---
Combines work surface light controls as well as medication drawer locking and RFID scanning status in one simple interface providing peace of mind. ADVANCED RFID TECHNOLOGY
---
Instantly reduce costs and risk of human error with complete, fully automated, 99.99% accurate medication inventory tracking enabling healthcare providers with the ability to focus more on patient care.

SECURE MEDICATION STORAGE
---
Two-factor log-in with PIN, ID card or BioID grants 24/7 secure access storage of all controlled and non-controlled medications with complete control and oversight for state and regulatory audits.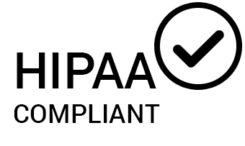 HIPAA COMPLIANT
---
Protecting patient privacy and securing their sensitive data is one of your top priorities. Our cloud-based architecture encrypts data in transit and at-rest to protect Protected Health Information (PHI) in accordance with the U.S. Health Insurance Portability and Accountability Act of 1996 (HIPAA) Privacy and Security rules.

IT SECURITY
---
Designed to maximize the security of IntelliGuard devices without compromising usability. System security encompasses the boot-up process, software updates, encryption and the ongoing operation of the OS. WASTE WITNESS
---
Closed-loop two-person automation provides accountability for administered and wasted controlled substances. Ideal for audit situations – just pull the report.
TAKE A PEEK UNDER THE HOOD
IoT IN THE CLOUD
---
Say goodbye to complicated IT infrastructure rollout projects, long lead times for software maintenance and on premises servers. Say hello to turnkey implementations and software feature updates. Our top-class managed cloud infrastructure provides a seamless customer experience that you can count on always being up-to-date and simple.
THE TAG
---
Not all RFID is created equal, so it pays to invest in a technology that utilizes the single smallest proven RFID tag in healthcare that works on everything from ampules to IV bags.
THE SOFTWARE
---
Runs on Windows 10 and comes with Windows Defender. It's HIPAA compliant and can also be configured with your own antivirus software.
THE BATTERY
---
When AC power is unavailable it's good to know we have your back. Backup power is good for up to two hours.
STATE OF THE ART INTRAOPERABILITY EXPANDABLE TO MEET YOUR NEEDS
ACTIVE DIRECTORY INTEGRATION

---
Integrates with Azure active directory service to provide centralized user management and security for access to the system.
EHR INTEGRATION

---
Utilizes the HL7 messaging standard to provide seamless EHR integration. By combining patient, case and transaction details from both systems into one, providers in pharmacy and anesthesia save significant time, and data accuracy is improved.
API INTEGRATION

---
We understand technology is an investment. Hospitals and Healthcare systems need to leverage IntelliGuard technology to its fullest potential. That's why we develop our solutions to be as interoperable as possible to eliminate paper record keeping, reduce workflow steps, and improve efficiency and safety.